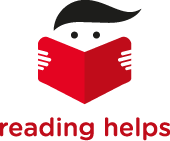 More than three years ago martin Roman launched a unique project called "Readinghelps.com" (www.ctenipomaha.cz)The purpose of the project is to motivate children from 6 to 18 years of age to achieve two goals at the same time: to read more and to engage in charity.
The principle is as follows:
On the website of the project www.ctenipomaha.cz there is a list of over 400 books (among which are all the Harry Potter books :-) selected by a panel of twelve prominent Czech personalities, the head of which is the Oscar-winning Mr. Zdeněk Svěrák, one of the most popular Czech actors who was originally a Czech language teacher. The children select one or more of the books listed, and they then answer four questions on the website to demonstrate that they really read the book. For each book read the children receives from me a virtual amount of CZK 50.- (approx. € 2) and selects a charitable project from a list to which they want to contribute.
Charitable projects are provided by reputable Czech foundations, and the average amount of each project is € 4,000. The objects of the charitable projects are most frequently connected with the purchase of medical aids or assistance dogs for the disabled, medical care in third-world countries, and helping people and animals in need.
Each contribution has its particular recipient, so that when the children reach the goal sum (normally € 4,000) with their "vouchers",Martin Roman then send the particular amount to the foundation or directly to the recipient of the gift. Photos are made of the handover of the gift and each child who contributed to the project receives an e-mail with thanks and a photo as feedback that his or her efforts were meaningful and helped a good cause.
There are 247,000 Czech children registered in the project, which is 16% of all the children aged 6 - 18. Over the past three years of our activities we have supported more than 500 different projects, donating more than € 1,900,000. The list of projects that received our support is available at Ukončené charity.
The project is fully paid from Martin Roman's personal funds and his intention is to provide long-term financing for the project. Our media partners include the largest radio and television networks, news publishers and billboard network operators in the Czech Republic.
The appeal of Reading Helps is the promotion both of reading and of charitable activity - everybody wins. If you find the idea interesting and have suitable charitable organisations, you might be interested in promoting reading and charity amongst youngsters in your country. We would be glad to offer you our help in getting it off the ground.